21aug6:30 pm8:30 pmBreathwork, Meditation & SoundAn immersive combination of 3 modalities
Event Details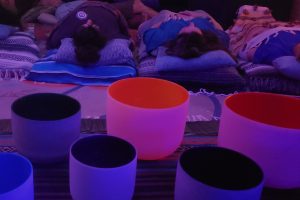 "The perfect combination! Very effective!"
"I was able to drop in quickly and deeply relax."
"This combination works for me!"
The experience of 3 modalities together in one evening! We begin with light nourishment, supportive herbal tea and heart-opening social time. Then the practices include gentle, guided breath techniques followed by a guided meditation and an immersion in sound frequencies using a variety of instruments. Each of these practices invite us to bring our focus to the body where centeredness and healing are created and to empower us with tools that are always available to us.
Approximately 70% of toxins in the blood stream and tissues of the body are eliminated through our respiration. Learning to use the breath in certain ways can help the body to "detoxify" at the cellular level as well as reduce inflammation, boost immunity, improve digestion, reduce acidity (increase alkalinity), lower blood pressure, increase circulation.
In addition to the physiological benefits of focused breathwork, we can also reduce our emotional stress and increase our mental clarity, our creativity, vitality, life force energy, intimacy (even libido!) while helping us to expand our inner-standing … our awareness and embodiment of Self.
Meditation and sound immersion mirror many of these benefits and integrating the 3 modalities together creates a whole-istic experience!
Time

(Monday) 6:30 pm - 8:30 pm
Organizer