30mar6:30 pm8:30 pmBreath, Meditation & Sound w/Lizzie KayGet "in tune" with your Self!
Event Details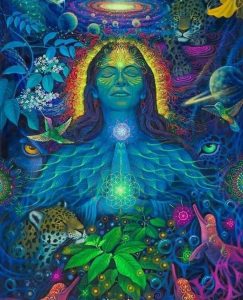 Harmonic sound frequencies have been used to demonstrate and to create harmony and balance in the body for thousands of years! Ancient teachings focused on music as the main force for harmonizing the body and spirit, for affecting the emotions, and even effecting cures!
"Sound" is a vibrational energy which takes on the form of waves. Dr. Steven Halpern, PhD, even describes sound as the carrier wave of consciousness!
These waves are scientifically measured in units called "hertz" (hz) which measure the cycles per second which this energy creates; this is objectively known as "frequency" and subjectively experienced as "pitch."
"Resonance" is the natural vibratory rate of an object. Every cell, tissue, organ, bone, fluid, etc., in our bodies has a healthy "resonant freqeuncy" producing a "harmonic" pattern.
These patterns or rhythms operate as generative factors in our lives — for instance, if our muscle tissues are "tense," we may also "be" tense. Reasonably, when the "frequency" altars and the vibration is out of "harmony," we may generate disharmonious states in our bodies and lives.
Viewed under strong microscopes we could see that everything — including the human body — is in a state of vibration. By regular, intentional immersion of our bodies — our cells, tissues, organs, bones, fluids — in harmonic sound frequencies we can receive a sort of "general tune-up" for our system.
We have the opportunity to quiet the disruptive "noise" of daily life and allow the sound to shower and re-harmonize us in ways that the busy brain can't always analyze. We're simply invited to actively listen and BE.
The benefits of these sound immersions increase the more often we engage in them and this offering will be a way to embody whatever "tuning" your Being calls for.
Beginning with guidance through gentle breath practices and centering meditation, we'll continue into sound immersion and integration taking plenty of time for your Self, your body, mind and soul
Doors open at 6:30 for light snacks and locally crafted herbal tea; session starts at 7:00
Time

(Thursday) 6:30 pm - 8:30 pm
Organizer